T&A are known for their work with glue sticks. T&A first started drawing when they were only 74 years old, making them a child prodigy. However, the smelly pressure of being a child prodigy excitedly got to them and they had a bright breakdown, resulting in them cutting off their own eyelid! T&A found blue inspiration from the lost limb and decided to frame it and hang it in their basement for all the toasters to see! T&A eventually got married to their mommy and they remain together noisily in their mouth with their 42 children. T&A would like to thank Gandhi, Bob Barker and Mondrian for their constant support and inspiration.
What are the easiest/hardest parts of the artistic process?
T&A: The easiest part is physically creating the piece, it's when the creative process really takes off and when we can bounce ideas off of each other.. The hardest part would be signing and sending it off, because that's when the journey's over.
Which is your favorite piece and why?
T&A: Ha! Every new piece is our favorite... until the next new piece. I think this year alone we've spent alot of time exploring different styles and processes. We had a blast doing the redesign of Rush 'N attack, it was challenging to create new art that emulated a dedicated mid-eighties arcade cabinet, for something that was actually from the era.
What do you feel is the significance of online communities to inspiring artists?
T&A: Right now, it's the best way to get yourself known. We've met so many different types of artists and collectors who we've traded info and sometimes collabed with through various forums and communities. You ask for honesty, they give it to you. One of the major setbacks for artists pre-internet was not having a weekly/daily repetoire with other creatives. Now here sits a world of inspiration.
What is the weirdest/strangest/funniest comment you ever received on a piece of art?
T&A: It was at the Bowery Ballroom in New York, we were selling our art prints for Brother Past. Some guy stumbled up to our table and asked if we had anything real to sell, besides our "placemats".. He then proceeded to demonstrate his point by placing his drink on the counter display print. Sold! And we all walked away, each learning our own valuable life lessons..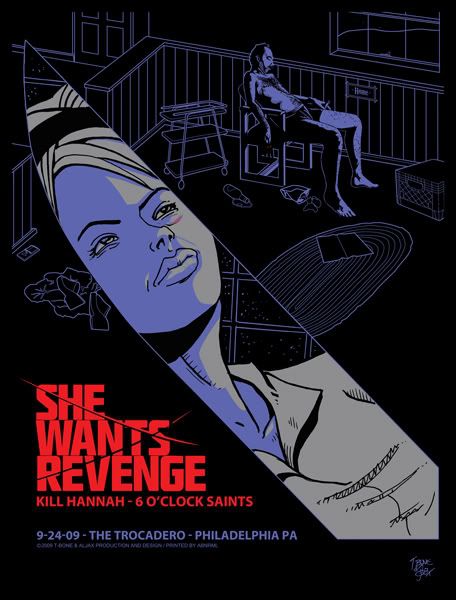 Please make sure to check out
their web site
! And as always, remember to respect the art and the artists! The art on this blog is here because we were given permission to put it on here. If you like the art and would like to use it for your own blog or web site, you must ask permission from the artist first and none of the art is to be taken, stolen or reproduced! Respect the art!