Rhys Wootton is known for his work with space huskies. Rhys first started drawing when he was only 3 years old, making him a child prodigy. However, the awesome pressure of being a child prodigy intensely got to him and he had an orange breakdown, resulting in him cutting off his own pinky! Rhys found diligent inspiration from the lost limb and decided to frame it and hang it in his greenhouse for all the captains to see! Rhys eventually got married to David Attenborough and they remain together sleepily in their airship with their 2 children. Rhys would like to thank Jeffrey Lebowski, Bill Murray and Roger Dean for their constant support and inspiration.
What are the easiest and the hardest parts of the artistic process?
The easiest is when I get to work for a band or record label that I love. Then the work flows naturally and obtaining inspiration is usually quick, sometimes as fast as when the client is initially briefing me on the phone. I'm always listening to music and going to gigs so the inspiration is waiting dormant until its awakened. Once all the elements are in place that's when I get into my favourite part - doing the colouring and lighting effects. The music I'm into is very cinematic in sound, particularly in the post-rock genre – what really gets me going is trying to make my illustrations as epic as possible.
When things get tougher it's usually because I'm having trouble connecting what's buzzing around my brain and relating that to what's appearing on paper. I take a lot of influence from concept art and it's a role I'm working towards. When I do a commission I often go through a lengthy stage of sketching and designing my ideas, creating the scene from different angles and so forth, so I'm constantly going back to the drawing board. I view illustration as a route of problem solving, so when I get stuck I usually arrive at a solution systematically.
My work tends to focus on perspective and scale - sometimes this can be hard to conceive on paper. I remember doing a poster with a Galleon being raised from the ocean by a huge Spartan character. I started getting frustrated because I couldn't understand the proportions and scale. So I got a wine bottle (resembles the shape of a boat) and took a bath pretending to be a giant Greek god, (Jason and the Argonauts style). It was loads of fun and solved the problem. The more I play and have fun with my work the better the results.
Which is your favourite piece and why?
In 2007 myself and three guys from my arts collective BRAG where invited by Chuck Sperry and Ron Donovan from Firehouse Kustom Rock Art Co. based in San Francisco to attend a two week internship to learn more about gig poster art. Firehouse has been going for over 20 years making posters for all the top line bands and labels. They've got awesome stories to tell and have led fascinating lives, it was really inspiring to be around them.
We all got to design and print a festival poster for the San Francisco Summer of Love 20th Anniversary. Chuck and Ron had arranged a jammed pack schedule with art directors and really cool poster artists. The whole trip blew my mind and it was just when I graduated from art school so my enthusiasm was boosted to mass effect. They'll always be on my all time top list of artists and I so grateful for everything they have given me. There's a full story I wrote on Creative Review's blog linked from my site in the "About "section
What do you feel is the significance of online communities to inspiring artists?
Online communities are really important to me and an online presence is something that seems to be standard practice now. I have learnt loads from tutorials and got into cool exhibitions from reading forums. I got to work for the Bongout Gallery (that rocked!) in Berlin last summer and I that was from a forum post. I tend to stick to a few favourites like gigposters.com and conceptart.org but I'm starting to expand out.
On the flip side - I try to limit my net time because maintaining an online profile can be time consuming and distracts me from doing my work. I spend so much of my time exploring the imaginary worlds I create I need to balance that with time spent in the real world. Its great when using the online communities creates personal (face to face) connections with people – to me that's the full deal. I suppose it's like everything, striking a balance is best.
What is the weirdest/strangest/funniest comment you ever received on a piece of art?
My second poster I ever did was for a small festival and Duke Spirit was the headliner. I printed it in Oil Based inks that have a strange nutty smell. I got the poster signed by all the bands and the singer from Duke Spirit took a big whiff of the poster and wrote "it smells like the toilets at Edinburgh festival" – she laughed and said that was a weird thing to write and maybe I caught her off guard. I didn't take as an insult though, who knows… maybe they smell nice there? ……I can't imagine they do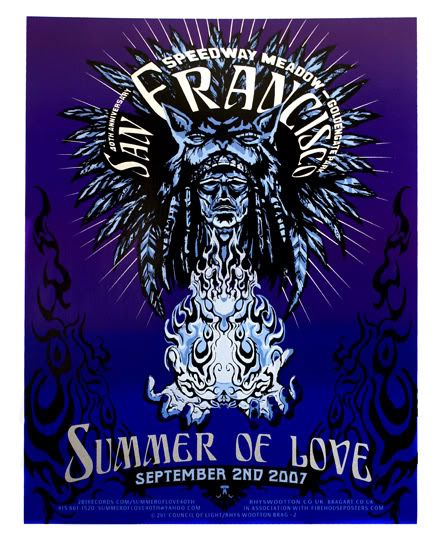 Please make sure to check out
his web site!
And as always, remember to respect the art and the artists! The art on this blog is here because we were given permission to put it on here. If you like the art and would like to use it for your own blog or web site, you must ask permission from the artist first and none of the art is to be taken, stolen or reproduced! Respect the art!