Joe Sorren is known for his work with certificates. Joe first started drawing when he was only 7 years old, making him a child prodigy. However, the fluffy pressure of being a child prodigy falling got to him and he had a ruthless breakdown, resulting in him cutting off his own soleus! Joe found broken inspiration from the lost limb and decided to frame it and hang it in his porch for all the coffeepots to see! Joe eventually got married to Brett Favre and they remain together laughingly in their doghouse with their 3 children. Joe would like to thank P. Ditty, Susan B. Anthony and Cy Twombly for their constant support and inspiration.
What are the easiest and the hardest parts of the artistic process?
Easiest: once things really get going, the momentum takes over and you are just along for the ride. Hardest: Building that momentum up.
Which is your favourite piece and why?
The one I haven't done yet because I don't want to feel like I have peaked.
What do you think the importance is of online art communities for relatively unknown artists, or even well-known artists?
The support it offers is really important as well as helping artist establish their career.
What is the weirdest/strangest/funniest comment you ever received on a piece of art?
I don't know what it is but I like it.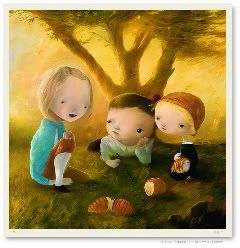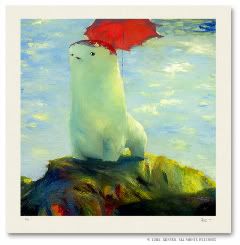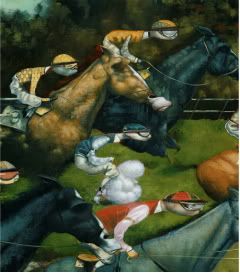 Please make sure to visit
his web site!
And as always, remember to respect the art and the artists! The art on this blog is here because we were given permission to put it on here. If you like the art and would like to use it for your own blog or web site, you must ask permission from the artist first and none of the art is to be taken, stolen or reproduced! Respect the art!